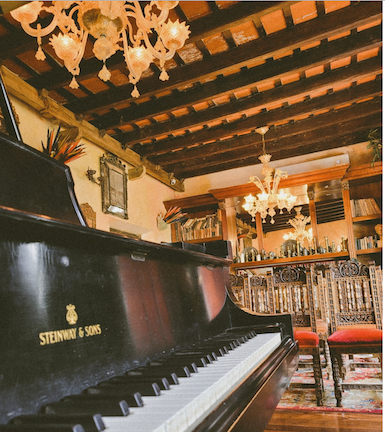 Steinway Society of Puerto Rico Celebrity Pianist Series
https://www.steinwaysocietypr.org
About
Join us Tuesday November 2, 2021, the Puerto Rico Charitable Trust for Education of Young Musicians, a non-profit organization (501c3/1101 certified) presents pianist ​Jorge Luis Prats in the Sala Steinway.

​Jorge Luis Prats was born in Camaguey in Cuba in 1956, studying with Cesar Perez Sentenar, Barbara Diaz Alea, Margot Rojas and Alfredo Diez at National School of Arts. On graduation, he was awarded a scholarship to the Tchaikovsky Conservatory of Moscow where he studied with Rudolf Kerer and he continued his studies at Conservatoire de Paris and later at the Hochschüle für Müsik und Künstler in Vienna with Paul Badura Skoda and Magda Tagliaferro. At 21 years old, Jorge Luis won the first prize at the prestigious Concours Marguerite Long – Jacques Thibaud in Paris as well as the special award of best interpretation of works by Ravel and Jolivet.

Become a member with an annual donation and receive exclusive access to world renowned artists and musicians, private events, and so much more! Support young musicians now, alongside the Steinway Society of Puerto Rico. Together we will create memories to last a lifetime in this historic venue - you'll never want to leave. (A charity that qualifies for Act 22/60 donations).


NOTE: You are receiving this private invitation to an exclusive event! We will have a limited capacity due  (30 total). We expect the event to sell out quickly. So if you plan to attend register *ASAP*!
FAQ's:
What does my ticket include?
Admission to world-class performance in the form of a charitable donation.
Where will I park?
We recommend parking at the Ballaja parking garage by El Morro - It is a 5 min walk.
Ballaja Parking Lot, Calle Morovis, San Juan, PR
Can I stay the night of the event at the Gallery Inn?
Yes! There will be hotel rooms available on location the night of the event. There is limited availability so book today at thegalleryinn.com!
What is the dress attire?
Cocktail attire! This is your opportunity to break out of your normal home attire and dress festive, classy and fancy!
Budget
See how money openly circulates through Steinway Society of Puerto Rico Celebrity Pianist Series. All contributions and all expenses are published in our transparent public ledger. Learn who is donating, how much, where is that money going, submit expenses, get reimbursed and more!
Registration to Steinway Society of Puerto Rico Celebrity...
from michael hoyt • 10/2/2021
Registration to Steinway Society of Puerto Rico Celebrity...
from Melissa Pfluger • 9/20/2021
Registration to Steinway Society of Puerto Rico Celebrity...
from Margarita Corral • 9/10/2021
Today's balance
$826.46 USD
Estimated annual budget
~ $0.00 USD